Southern First Aid supplies defibrillators to the public - for hire or for purchase.
Full support and training is available....
Q: Who should keep a Defibrillator?
A: Anyone involved with the care and organization of people of all ages.

This could be coach companies, schools, hotels, sports groups, commercial premises,
community rooms, stores & malls, retirement & rest homes.
State of the art and portable, defibrillators are also invaluable
for private individuals who are at risk of cardiac arrest or on a hospital waiting list.

Q: Why should we keep a Defibrillator?

A: Cardiac Arrest strikes people of all ages and fitness levels, usually without warning.
Many of these lives could be saved if bystanders act promptly to phone 111 and begin CPR,
and if trained responders provide defibrillation within minutes.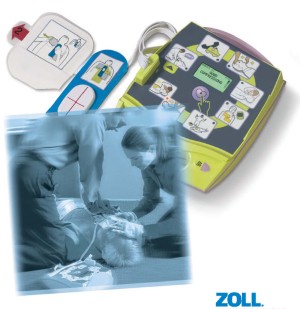 Life saving defibrillation equipment available at Southern First Aid
Weekly defibrillator hire and lease to buy options available
Defibrillator Training Kits Available
The ZOLL AED Plus® is the only Full-Rescue AED that supports both CPR and defibrillation. For infrequent rescuers, the AED Plus supports the complete chain of survival. The unique graphical user interface – pictures combined with text displays and voice prompts – helps the rescuer perform every important life-saving action every step of the way.
Whether in hospital or in the field, the new ZOLL AED Pro®is designed to perform in any environment.
The AED Pro provides the ruggedness, portability, and advanced functionality that professional rescuers and services require from an AED.